›
New Jerusalem Monastery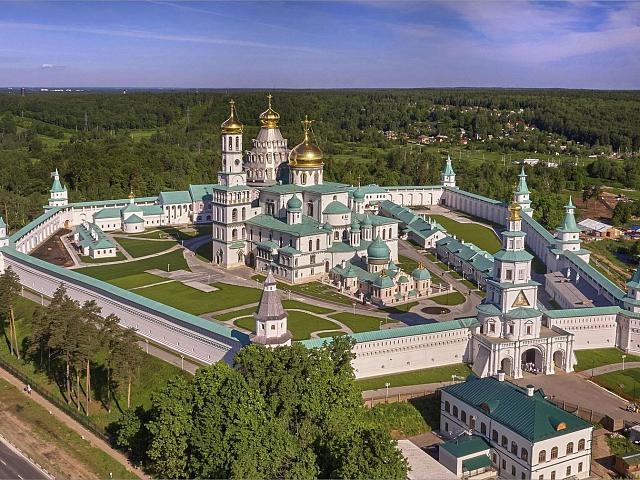 The New Jerusalem Monastery or Novoiyerusalimsky Monastery, also known as the Voskresensky (Resurrection) Monastery, is a male monastery, located in the town of Istra in Moscow Oblast, Russia.
The New Jerusalem Monastery was founded in 1656 by Patriarch Nikon as a patriarchal residence on the outskirts of Moscow. The monastery took its name from the New Jerusalem. This site was chosen for its resemblance to the Holy Land. The River Istra represents the Jordan, and the buildings represent the 'sacral space' or holy places of Jerusalem. In his time, Patriarch Nikon recruited a number of monks of non-Russian origin to populate the monastery, as it was intended to represent the multinational Orthodoxy of the Heavenly Jerusalem.
The architectural ensemble of the monastery includes the Resurrection Cathedral (1656–1685), identical to a cathedral of the same name in Jerusalem, Patriarch Nikon's residence (1658), stone wall with towers (1690–1694), Church of the Holy Trinity (1686–1698), and other buildings, all of them finished with majolica and stucco moulding. Architects P.I.Zaborsky, Yakov Bukhvostov, Bartolomeo Rastrelli, Matvei Kazakov, Karl Blank and others took part in the creation of this ensemble. In the 17th century, the New Jerusalem Monastery owned a large library, compiled by Nikon from manuscripts taken from other monasteries. By the time of the secularization of 1764, the monastery possessed some 13,000 peasants.
2 Sovetskaya ulitsa 143500 Istra Russia
Monday 08:00 - 18:00
Tuesday 08:00 - 18:00
Wednesday 08:00 - 18:00
Thursday 08:00 - 18:00
Friday 08:00 - 18:00
Saturday 08:00 - 20:00
Sunday 06:30 - 18:00